Tuesday's media round-up suggests City won't be resting on any laurels this summer and will look to add several of Europe's coveted young stars to a squad that secured the Premier League title at the weekend.
The Daily Mail lead the way, suggesting the Blues could splash out on some of the most promising (already established) youngsters.
Jack Gaughan writes: "Pep Guardiola is targeting as many as four new faces to keep Manchester City on top in a spree that could reach £200m.
VIEW: Champions' homecoming gallery
"Guardiola wants to 'freshen up' his squad with a defender, two midfielders and a striker on the agenda.
"Atletico Madrid central midfielder Rodri is a target, with City mindful of a need to find competition for Fernandinho, who turned 34 this month.
"Sporting director Txiki Begiristain made a personal check on Rodri, 22, recently. The Spain international's release clause is £60m.
"City have watched Frankfurt striker Luka Jovic, while there is interest in Benfica's Joao Felix, 19.

"Jovic, valued at around £50m, is a target for a number of the continent's top clubs, including Real Madrid, but Frankfurt are likely to resist offers should they qualify for Europe.
"Sources suggest City's decision to call off the pursuit of Leicester left back Ben Chilwell is down to prioritising a new centre back.
"They have been in the conversation about Matthijs de Ligt's prospective move away from Ajax, but Guardiola admits City struggle to compete for players who Barcelona are also interested in."
Elsewhere, a number of this morning's inside pages carry quotes from Riyad Mahrez on the back of his starring role at Brighton.
The Algerian winger has not been a regular starter for the Blues during his first season at the Etihad, but the former PFA Player of the Year has revealed he didn't expect to walk into City's starting XI and is very happy with life at the Etihad.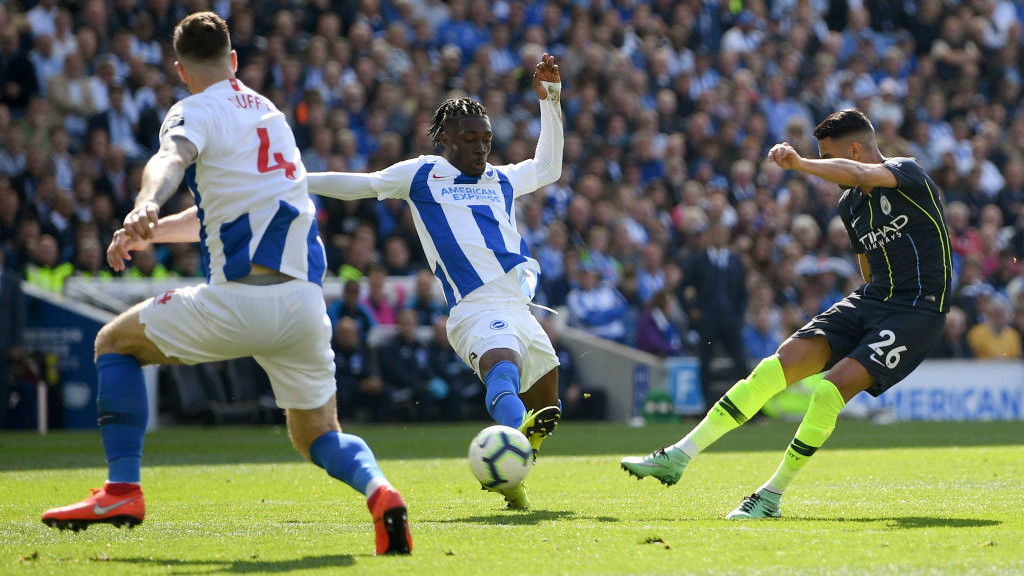 MAHREZ: Happy with City life
MAHREZ: Happy with City life
The Mail (again), write: "Mahrez responded to his surprise selection with the vital third goal, skilfully leaving Lewis Dunk on his backside before lashing the ball into the top corner.
"He said: 'It's not easy to come to a team, a squad, who won everything last season.
'But I'm very confident about myself and never doubt my quality. I knew when I had my chance, I would take it. I scored, I helped the team, we played very well, and we deserved to win the league.
'I'm very happy here. It's not that because I don't play, I'm going to go somewhere else. It's part of the game. I need to stay strong because it's part of my personality. I'm never going to go away from teams.'
Moving on and the always-readable Jamie Jackson has been assessing City's season and claims a third successive title will be a huge challenge for Pep Guardiola's men.
Writing in The Irish Times, he says: "How do Manchester City follow the near-perfection of a Premier League title triumph of 98 points? Try, somehow, to repeat it next season.
"Simple to say, far harder to pull off. Yet this is the challenge for the magnificent champions and their equally impressive manager Pep Guardiola.
"After Brighton were beaten 4-1 on Sunday to make City the first team for a decade to claim consecutive crowns, Guardiola repeated his declaration that is he is sure they will be even better next season.
"City are already a team for the generations, one in the argument over the country's finest ever.
SELFIE: Celebrating with the fans at the Etihad Stadium_
SELFIE: Celebrating with the fans at the Etihad Stadium_
"To win a third title in a row, though, has only been done by four of the 24 champions of England. Manchester United in the Premier League era (twice, 1999-2001 and 2007-09), and before them Liverpool (1982-84), Arsenal (1933-35) and Huddersfield (1924-26).
"The feat can be billed as the domestic game's Everest. For next season's tilt at conquering it Guardiola and his players can draw succour from having already met the challenge of retaining the title.
"This came after City accumulated a record 100 points in 2017-18 to register a mind-boggling average, across the two seasons, of 99."
Read the full article here.
Looking ahead to the weekend and City will look to end an incredible season with a fourth trophy when the Blues take on Watford in the FA Cup final.
There's plenty of early build-up out there this morning, with Four Four Two's feature typical of several previews as they write: "Manchester City will head to Wembley on Saturday on the brink of history.
"After last weekend's Premier League title triumph, now only unfancied Watford can prevent Pep Guardiola's exhilarating side from becoming the first team to win the domestic treble.
"Most of the build-up to the FA Cup final will focus on City and their breath-taking achievements in the past two years.
"The odds will heavily favour City as they bid to win their fifth major English trophy of the last six available.
"It is not a foregone conclusion, after all City suffered FA Cup Wembley heartache when they were stunned by lowly Wigan in the 2013 final.
"But City are a club more serene under Guardiola than they were in the chaotic final days of Roberto Mancini's, admittedly successful, reign six years ago."