England manager Gareth Southgate has heaped praise on Raheem Sterling, describing the Manchester City forward as a force for good both on and off the pitch.
Sterling has emerged as a leader in the fight against racism this season, taking a very public stand in the face of serious abuse at home and abroad.
And at the same time has produced dazzling performances for club and country, scoring 23 goals for City, as well as a hat-trick for England against the Czech Republic and a double in the Three Lions' famous victory in Spain.
It was those reasons he was awarded this season's Football Writer's Association Footballer of the Year prize with a landslide share of the vote.
Southgate says the turnaround in public opinion is testament to Sterling's character, a person he says is "brave" and "eloquent".
"I have to say I think there had been unfair criticism and the hardest thing when you're playing is people don't know you really," he said.
"The dressing room knows you and the people you work with know you but outside of that people don't.
"What people are recognising now are the personal qualities that he has.
"First and foremost, the recognition's for how he's playing, I know that's how he always wants to be judged, as a player.
"But also, there are things that are more important than football that he's had an impact on, that he's addressed very bravely and really eloquently and that's, I think, for any of our players, they have a chance to affect society and to be a role model for the communities that they grew up in you know kids look to them and he's done that brilliantly.
"I'm chuffed to bits for him because he really deserves it."
Sterling has enjoyed perhaps his best season as a professional, playing a key role in City's bid for a clean-sweep of English trophies.
His improvement over the past two seasons has been phenomenal and he is now widely seen as one of the best attacking players in world football.
HAVE YOU SEEN…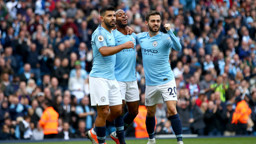 Men's Team
City trio shortlisted for Player of the Season:Three Manchester City players have been nominated for the Premier League Player of the Season award.
8 DaysCity trio shortlisted for Player of the Season: Three Manchester City players have been nominated for the Premier League Player of the Season award.
Asked to describe his form, Southgate said: "Phenomenal really. For us he had a fantastic World Cup and, I think, he came back from the World Cup not feeling that was the case from some of the reaction.

"His response to that has been incredible. His form with his club over two years has been immense. He's added the goals which was the only thing missing from his game with us as well.
"He's been such an important player for us ever since I've been in the role and with any player that relationship can be a bit up and down because sometimes you have to take them off in games but he's been so tough through all of that.
"He's such a well-respected member of the team, loved by all the players and the staff and he's growing in maturity all the time.
"To have fought off all the competition for places alone at his club is an achievement in itself so to do that you've got to play at a really high level and he's found that real consistency all season."